All products are made without UV absorbers.
Sun protection that is gentle to the skin. The compromised barrier layer of
sensitive skin is especially susceptible to harmful UV rays.
NOV Sunscreens gently guards against the drying, damaging effects of sunlight
while reducing the contact UV rays have with the skin. With the concept of
a product that can easily be removed without affecting the skin, our lineup of
products can be simply washed away with soap and warm water.


*1 Excluding NOV UV Stick EX

*2 Excluding NOV UV Milk EX
Skin patch tested
Allergy tested
Photo allergen tested
Non-comedogen tested <Excluding NOV UV Shield>
*Not guaranteed as completely allergen-free for all customers
*Not guaranteed as completely comedogen-free for all customers


NOV Sunscreens are UV absorber-free, and are perfect for those who have sensitive skin.

From strong ultraviolet rays to daily sunlight, a wide array of products to drastically reduce damage from the sun.
Drastically blocks UV-A rays that cause dark spots and wrinkles while guarding against harmful UV-B rays that dry out the skin.

Sunscreen with a smooth formula that easily spreads and reduces white cast on the skin.

NOV sunscreens are designed around the concept of being easily removable and not affecting the skin.
Wash away NOV UV Milk Ex with warm water, and wash away NOV UV Shield EX and NOV UV Lotion Ex with soap without the harsh scrubbing.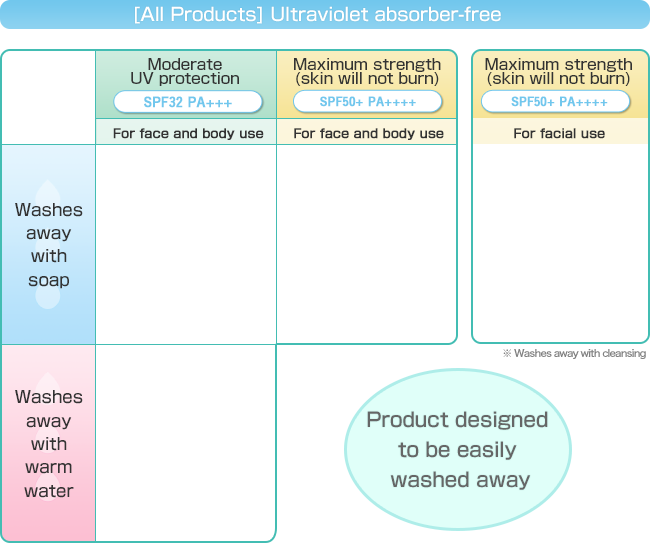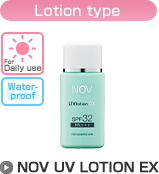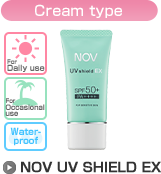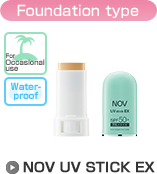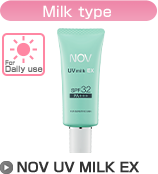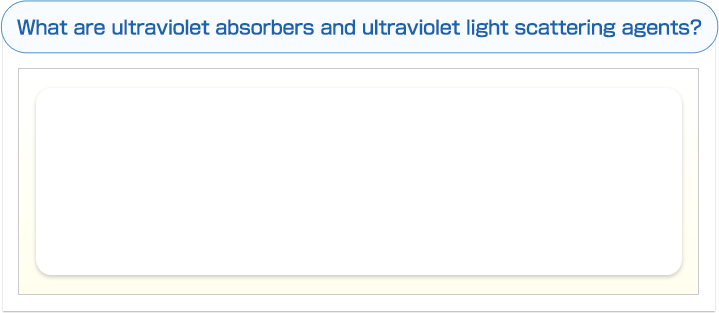 In general, sunscreens typically use ultraviolet absorbers and ultraviolet light scattering agents to reduce the impact of UV rays on the skin. UV absorbers take in ultraviolet light from the surface of the skin, and from a scientific standpoint, reduce the amount of UV rays the skin intakes. At some point, however, those with sensitive skin may feel tenderness or irritation. On the other hand, ultraviolet light scattering agents create a powdered surface on the skin to reflect and scatter ultraviolet rays. For this reason, the irritation or sensitivity of the skin to these products is said to be greatly reduced.

SPF has been shown to drastically reduce the chances of sunburn by protecting the skin from UV-B rays. It prevents large amounts of UV-B rays from harming the skin.

The extent of skin protection from UV-A is shown in four stages: +, ++, +++, ++++. The higher the number of +, the more protection from UV-A rays.



Sunscreen milk that washes away with warm water

NOV UV MILK EX
35g
2,200 yen
(Tax Included)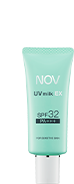 Revitalizing sunscreen cream that leaves the skin smooth and soft

NOV UV SHIELD EX
30g
2,750 yen
(Tax Included)

Sunscreen lotion that leaves the skin silky smooth

NOV UV LOTION EX
35mL
2,200 yen
(Tax Included)

Sunscreen stick that leaves a smooth finish on the skin

NOV UV STICK EX
3,300 yen
(Tax Included)

Moisturizing cream type


NOV UV SHIELD
30g
2,750 yen
(Tax Included)

NOV
LIP CARE CREAM
UV
1,320 yen
(Tax Included)