Dryness and rough skin are some of the main causes of acne.
NOV AC Series combats dry, irritable and sensitive acne-prone skin
that also gently moisturizes, guiding you to achieving a healthy complexion.



Non-comedogen tested (Not guaranteed as completely comedogen-free for all customers)
Skin patch tested
Allergy tested (Not guaranteed as completely allergen-free for all customers)
Prone to developing acne along the face and jawline.
Worried about acne, dryness and rough skin.
Seeking for acne skin care that puts minimal strain on skin.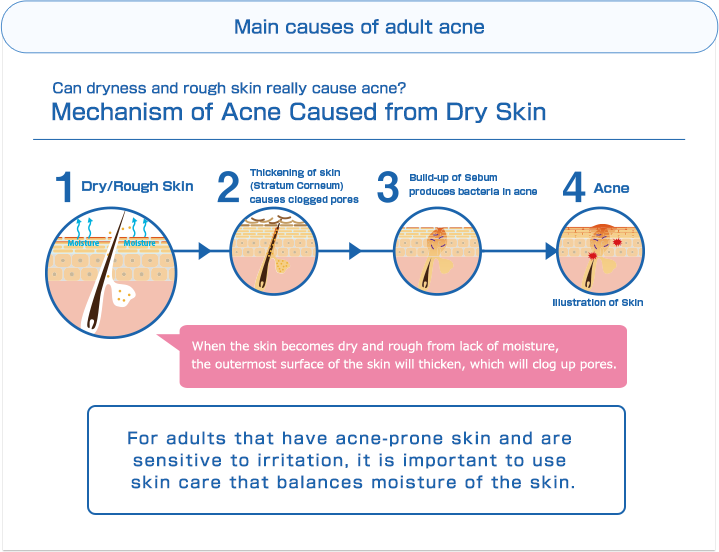 Gently treats acne on sensitive skin. Hypoallergenic, gentle and easy application on skin.


Its high moisturizing properties also gently maintains the moisture balance of sensitive and acne-prone skin.
In addition, we have a skin care line that emphasizes moisture retention including face lotions, gel and cream.


Maintain healthy skin that combat adult acne with active ingredients※3 in an oil-free formula*, killing acne bacteria while moisturizing skin.
※1 2-Methacryloyloxyethyl phosphorylcholine · butyl methacrylate copolymer solution: Moisturizing ingredient
※2 Sodium Hyaluronate: Moisturizing ingredient
※3 Glycyrrhetinic acid stearyl: Active ingredient

NOV
AC CLEANSING
GEL
110g
2,200 yen
(Tax Included)


NOV
AC WASHING
FOAM
90g
2,200 yen
(Tax Included)


NOV
AC FACE
LOTION
120mL
2,420 yen
(Tax Included)


NOV
AC MOISTURE
GEL
40g
2,750 yen
(Tax Included)


NOV AC
MOISTURE
CREAM
28g
3,080 yen
(Tax Included)


Approximately 1 week supply / 5 products
NOV AC CLEANSING GEL 15g
(Non-medicinal products)
NOV AC WASHING FOAM 15g
(Non-medicinal products)
NOV AC FACE LOTION 20mL
(Non-medicinal products)
NOV AC MOISTURE GEL 6g
(Non-medicinal products)
NOV AC MOISTURE CREAM 4g
(Non-medicinal products)
1,650 yen (Tax Included)